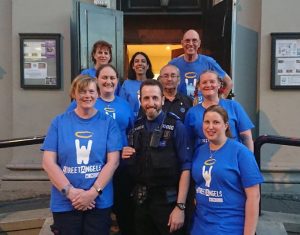 We're out and about each Friday and Saturday night from 9.30pm – 4am supporting anyone who may need it and our hub is open on Victoria Street each Saturday night from 10pm – 3am
We still have a few additional guidelines to keep our team and those we support as safe from risk of covid as we can but we are now able to open up to volunteers again! We'd love to hear from anyone considering being an Angel, our team really are what makes a different as they are all volunteers and all make a huge difference to everyone we support.
You can register your interest to be a Street Angel by completing the form on our volunteer with us page, we'll then be in touch to answer any questions you may have and arrange an initial shift where you can come along as an observer.
Windsor Street Angels is a voluntary organisation operating in Windsor town centre since February 2012. We patrol the streets every Friday and Saturday night helping anyone who may be vulnerable or need of our support and help and have helped over 30,000 people since our first shift. This support might be to provide water, flip flops, lollipops or blankets, soup for the homeless or just a listening ear. There are some occasions when volunteers will need to assist with basic first aid or in more extreme circumstances call an ambulance or police.
Street Angels is about members of the local community working with partners to ensure that people in the night time community have a safe and pleasant experience and those in need receive help.
We work closely with the police and ambulance services along with licensed premises. In a typical year we help over 4000 people, distribute 1000 pairs of flip flops, 600 bottles of water, make 47 referrals to other agencies and calm 73 situations.
Street Angels operates under the umbrella of Windsor Christian Action (WCA). Windsor Christian Action is a local charity operating social projects in Windsor. Visit their website for more details.
We are supported by several local organisations including the Michael Shanly Foundation, Radian Housing, The Edith Murphy Foundation, Prince Philip Trust, Windsor and Maidenhead Christian Trust, Windsor Baptist Church, RBWM and Thames Valley Police.
.