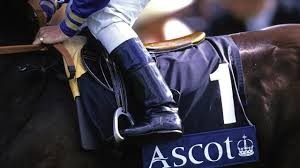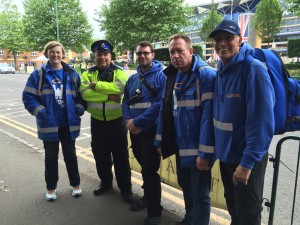 The Windsor Street Angels were present at Ascot during The Royal Ascot Race week in June for another year. They went down a storm with all the race-going revellers and helped lots of member of the public with various needs.
Comments from the team:
Yvonne – 'Ascot was very busy on all three evenings.  Two groups managed to get out on all of the days and we patrolled along the main street and down by the station.  We spent most of the time giving out flip flops, lollipops and water.  A couple of cases of first aid.  One group of angels spent alot of time helping one young lady and finally managed to get her on the train home.  A few cases of ladies falling at the bottom of the hill.  One lady had a particular sore ankle, fortunately, Angels had an ice pack and after awhile the lady was able to walk to the train.  Plasters given to a policeman as he had blisters and of course all police we met wanted a lolly pop, which we obliged with! On the whole, the crowds were in good humour and we raised £530.81, which was amazing and thank you to all who donated.  As usual our presence was well received by the race goers.  A special thank you to PCSO Tony Mellish from Bracknell, who stood in for PCSO David Bullock who was on a well deserved holiday.  We trained Tony well, and by the second day we had him handing out lolly pops and flip flops as well, hope to see him next year.  Also a big thank you to all the  Police at the station who made us feel most welcomed'.
Simon – 'Great atmosphere and the police were on great form (as illustrated in picture !!) Flip flop salesmen weren't impressed with our charitable spirit'
James – 'You can not create the enjoyable experience you get at Royal Ascot'