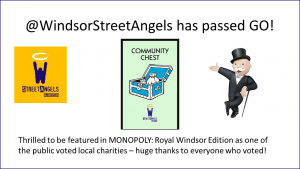 Windsor Street Angels are thrilled to have been selected as one of the local charities represented on MONOPOLY:Royal Windsor Edition that is hitting the shops on 5th October, well in time for this Christmas.
Windsor Street Angels were voted onto the board after a public poll was staged earlier in the year and are absolutely thrilled to be present on such an iconic game representing the town that the team patrol each Friday night and some Saturday's too.
The makers of the new official game today extended their congratulations. "A huge congratulations to The Windsor Street Angels," says Jennifer Lau, Custom Games Executive at Winning Moves UK, makers of the board under official license from Hasbro. "The charity will feature on one of the game's three Community Chest spaces. We feel this is an appropriate space on the board, with the Angels being such an integral part of the Royal Windsor community." On the new board, every MONOPOLY location from the original classic – from Mayfair to Park Lane – will take on a Windsor theme. Windsor Castle and Peascod Street have been heavily reported as set to land on leading spaces on the new board.
Most of the Chance and Community Chest cards will be heavily town themed too. "All will be revealed on October 5th," adds Ms Lau."The game will showcase the great and the good of Royal Windsor," adds Ms Lau.