2017 – A YEAR IN REVIEW
2017 proved to be a very special year for Windsor Street Angels, not just because it turned out to be one of the busiest years yet or that during the past twelve months we have been instrumental in forming a new community initiative aimed at saving lives, but because in addition to these amazing achievements we have also celebrated our anniversary!
It was five years ago that a band of twelve volunteers, dressed in their royal blue jackets and carrying kitbags stocked with lollipops and flipflops, battled the elements of a cold February evening to launch Street Angels here in Windsor. Although being a new concept it took little time for the community to embrace the work of the volunteers and soon enough the angels were seen as a vital part of the night time support
Since that first shift the project has gone from strength to strength and to this day continues to prove just what can be accomplished through hard work, team spirit and commitment. I thank each and every one of our angels, past and present, for their invaluable contribution to this most amazing initiative.
Our celebratory year got off to a wonderful start with the New Year's Eve team putting in a great effort and receiving high praise for the assistance they gave a young lady who had fallen ill whilst out in the town. Further tributes were given by police officers who commented on the 'brilliant determination' shown by our team to help as many people as possible on one of the busiest nights.
The early months of the year proved at times to be both chilly and eventful, with the team supporting many of the town's homeless through the winter nights with the offer of soup and rolls as well as signposting most to the local Homeless Project.
Throughout February and March our angels worked tirelessly and dealt with a variety of situations including helping a woman who was suffering a panic attack as well as identifying many individuals who had placed themselves in vulnerable situations. The volunteers also demonstrated exceptional observational skills in spotting environmental issues and hazards which, due to the team's diligence, were soon put right. There were also several situations that required first aid intervention and with the team having received excellent training from our two medics, James and Martin, the men and women in need were given the very best service. The angels patched up those with cuts and bruises and in more extreme situations called for an ambulance and even assisted paramedics in treating the patients.
Having taken receipt of a brand-new defibrillator, the team were well prepared for every and any eventuality should it arise.
With a steady flow of training sessions under their belts, consisting of Conflict Management and Observational Skills, by 1st April our angels took to the streets of Windsor undaunted, even when faced with National Zombie Day which saw a large troupe of enthusiasts dressed as the undead on a planned walk through the town. Though the zombies didn't require any assistance there were others who most certainly did, with many a flip flop given out to those struggling to walk in high heels and others who had discarded their shoes and were walking barefoot.
By mid-spring the team were accommodating more Saturday night shifts than ever before and in particular the payday weekends, which generally proved the busiest of the month. On the last shift of April the team experienced the most serious of incidents to date which resulted in an outstanding demonstration of professionalism from Karen, Sandra and Martin B, as well as a fantastic show of compassion when the team provided vital support to two homeless males at a time of crisis.
The following month saw the arrival of the annual Windsor Community Day, held in Bachelors Acre and organised to showcase the work of local charities and community projects. As always it proved a great success and with the sun shining upon us we had a great day with a good number of the Street Angels in attendance engaging with the community, many of whom were keen to hear all about the work of the team.
Next came June and as expected one of the busier months with the angels supporting not only Windsor's night time economy but also Royal Ascot where this year our numbers were bolstered by Woking and Maidenhead Street Angels. Whilst at the races we were honoured to receive a visit from Paul Blakey MBE who as usual donned a Street Angels t-shirt and immediately got to helping with the teams on the ground. The last evening of the event was a standout moment when our volunteers spent close to an hour with a gentleman who, because of an injury he had sustained, found himself in excruciating pain. The team literally held the man up until the ambulance arrived to take over.
The warm nights of August brought with them one of the busiest shifts of the year when the angels helped a staggering 150 people in six hours. It was also a month for training with the delivery of some excellent sessions including first aid, which incorporated a refresher input on our new defibrillator.
As we reached October it was then that we received the tragic news that one of our team had sadly passed away. Corinne Leatherbarrow was an amazing person and a true asset to Street Angels and for several years had managed our website and Facebook page as well as bringing in essential funds. Corinne cared greatly about the work of Street Angels and truly embodied the ethos behind our project − to offer help to those who need it when they need it most. Our thoughts remain with Corinne's family and friends. It is safe to say that we will never forget her.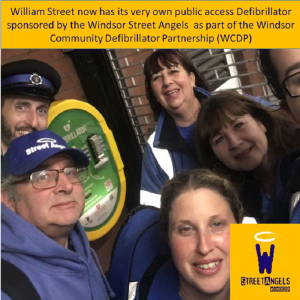 November saw a history making moment with the installation of the first public access defibrillator in the town, sponsored by Windsor Street Angels. This first defibrillator was in fact the catalyst for the formation of WCDP (Windsor Community Defibrillator Partnership) which I am very proud to say has now been responsible for the introduction of three public access defibrillators with many more to come in 2018. With the implementation of defibrillators across Windsor we can extend the work and the goals of Street Angels to supporting our community 24/7 and offering a potentially live saving option in the event of a cardiac arrest.
On entering the winter months the team did so with a spring in their step and despite some rather cold nights they carried on smiling. They continued to support local venues and door staff as well as the CCTV operators and police officers on the ground. One night in particular saw the team react instinctively to a man who had sustained a serious injury and was struggling to breathe. Quick thinking and cool heads led to a positive outcome for which the team received well deserved praise from Sergeant Parker of Thames Valley Police.
In total over 4000 people have been helped this year. There have been 40 incidents where first aid assistance was required and in addition over 1000 bottles of water and 1200 pairs of flipflops have been given out. The angels have helped a homeless male in ill health, they have treated several head injuries and lacerations and jumped in with officers when it was thought our defibrillator may be needed. They have assisted countless ladies and gentlemen to get home safely and helped officers in identifying criminality, yet the work of our brilliant team does not end there. Kim, one of our new angels, has gone out of her way to source seven sleeping bags to give to the homeless. Katie has organised two fundraising opportunities which has brought in over £400 and Alice H has taken over the running of the website and Facebook page, and if that wasn't enough to demonstrate the wealth of talent on our team, in December, for one night only, the Street Angels of Windsor decided it was time to showcase their vocal abilities.
On 20 December we joined Thames Valley Police and the Police Cadets as well as representatives from the Windsor Homeless Project, The Treehouse Café, RBWM Community Wardens and a local band to give a performance as part of the Windsor and Eton Living Advent Calendar.
In front of a sixty-strong audience we sang well-rehearsed versions of Silent Night and Once in Royal David's City, while accompanied by a fantastic brass quintet, but that wasn't all. For our finale we gave a very special performance of Sir Paul McCartney's The Frog Chorus, which proved to be a perfect way to end the night and in fact our year, for just as the lyrics say and just as Street Angels demonstrate every single week by working alongside the public and the emergency services of the Royal Borough – 'WE All STAND TOGETHER'.
David Bullock, Street Angels Co-ordinator.